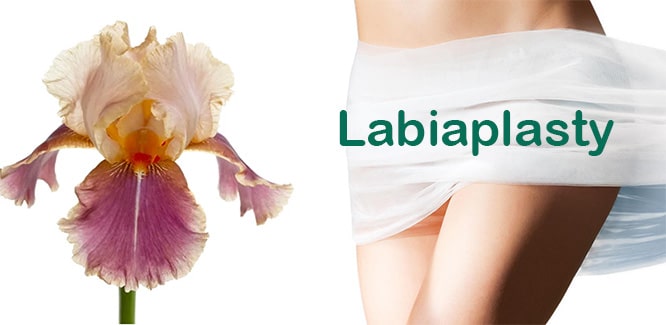 Labiaplasty (labioplasty) is the operation of cutting the genital inner lips and decreasing or correcting the vaginal area aesthetically. Vaginal sagging due to deformation in the vagina can be removed after this plastic surgery. This surgery for aesthetic purposes also resolves many health problems caused by the size of the genital lips. Labiaplasty surgery can be performed for married or unmarried women, even women who have given birth or who are virgin. There is no risk of surgery to prevent child birth in the future. The operation may bring some complications, so all women should be very careful and selective in choosing a plastic surgeon.
What is labiaplasty?
Labiaplasty is one of the most common vaginal rejuvenation procedures. This procedure is a preferred plastic surgery if the labia known as the inner and outer lip of the genitalia are larger than normal, large or asymmetrical. The shape of the inner lips (labium minus) is usually corrected by Labiaplasty, but sometimes labiaplasty can be applied to the outer lips. When one of the inner lips is longer than the other, the labiaplasty can correct the asymmetric image and lips can be given symmetry.
Although it is a rather expensive aesthetic operation, many women who are uncomfortable with this bad and saggy appearance in the vagina and feel uncomfortable for this alone can undergo labiaplasty surgery.
Who can get labioplasty (vulval surgery)?
Labiaplasty surgery can be done to all women who want to get rid of sagging of the vagina internal lips, size and asymmetric appearance in a short time. This size and sagging on the inner lips can lead to a lack of self-confidence in many women, and can even indispose the women from sexual intercourse, even from their partners. This abnormal condition of the vagina may cause the woman to feel herself uglier than the other women.

For women who have made this situation an obsession, this unpleasant appearance on the inner lips may cause women to be ashamed of their partner and to avoid wearing tight clothes such as swimwear and bikini. The length of the inner lips that is long enough to touch the legs, the sagging over time, the length and size difference between the lips are the most important factors that make labioplasty surgery inevitable for women.
Beyond all these aesthetic concerns, sagging and growth on the genital lips can often lead to women experiencing urinary tract disorders. However, it can cause women to go to the doctor regularly because of vaginal discharge problems and even feel pain during sexual intercourse. This type of health problems can also cause women to need labiaplasty operation. Labiaplasty surgery is not suitable for young girls under 18 years of age. Because of the labia continue to grow and develop in young girls up to the age of 18.
Causes of labial hypertrophy or labia enlargement
A number of accidents and traumas or rupture of the inner lips at birth.
Internal lips are more pronounced due to weakness
Due to frequent weight gain and loss, sagging in the vaginal area
Loss of the normal appearance of the genital lips due to multiple children and the sagging, contracting, deformation or irritation of this region.
Deformation of genital area of particularly slim women due to tissue loss after aging.
Post-menopause vaginal sagging and growth in inner lips.
A number of previous vaginal infections or tumors.
Excessive compulsion of the vagina during sexual intercourse.
Prolonged and excessive contact of the vagina with allergen substances such as perfume, cologne.
Labiaplasty surgery
Although labiaplasty is performed under local anesthesia, general anesthesia may be preferred at the request of the patient. However, with local anesthesia, the complications can be minimized. The operation time varies between 30-45 minutes. The lips, which are large and sagging, are reshaped as much as possible until a normal appearance is obtained.
Laser operation can also be preferred, as the surplus or unwanted tissue can be cut with a scalpel. However, the patient may experience loss of sensation during sexual intercourse in the vagina after laser treatments. Therefore, if a labiaplasty surgery is to be performed by laser application, it is necessary to choose a plastic surgeon who is fully specialized in the field of vaginal aesthetics.
What is anesthesia? How does it work? What does an anesthesiologist do?
Since the self-melting sutures are used during the surgery, the patient does not have to take the sutures at a later stage. Dressing is not applied to the area when surgery is completed. The inner lips that had an operation are cleaned with special antibiotic pomades. When the large inner lips are minimized by surgery, the lips becomes symmetric. Sometimes the asymmetric image on the inner lips can be removed with labiaplasty.
Is there any problem after labiaplasty surgery? Bleeding?
Labiaplasty surgery may cause some serious complications. It's a very risky surgery. Therefore, the doctor should not decide on the surgery without telling the patient all the risks. The following are the complications:
Bleeding,
Infection,
Tissue trace,
Loss or decrease in sensitivity to sexual organ,
Blood clots in veins,
Anesthetic allergic reactions,
At the same time, the desired success may not be achieved after the procedure and the patient may also need to perform a labiaplasty operation again.
What is mesotherapy? Benefits, type, procedure and side effects
Is labiaplasty dangerous?
Labioplasty surgery can be dangerous if not performed by specialist surgeons.
After labiaplasty surgery
During the first 2-3 days postoperatively, the patient may feel pain and tenderness at the surgical site. There may also be temporary edema and swelling in the outer lips. These swelling and edema, however, will be automatically healed within a maximum of 7-10 days. It takes approximately 1 week to fully dissolve the self-melting stures. After 1 month the entire recovery period is completed. There is no noticeable scarring in the surgical area after the surgery. The remaining scars disappear completely after 6 months.
Urinary incontinence in women: Causes, symptoms and treatment
What to consider after labiaplasty surgery?
Before and after the operation, your doctor should inform you about what to do and how. Patients who are to undergo local anesthesia before surgery can undergo surgery on a full stomach. However, patients who will undergo surgery under general anesthesia must stop eating and drinking at least 8 hours before the operation. All women should refrain from having surgery during menstrual period to avoid risk of infection.
People who regularly use drugs, patients with any infections in the blood, serious and chronic diseases such as cardiovascular diseases, high blood pressure, asthma, diabetes, hematologic diseases, should inform their physician about their health status before the operation.
You should be careful of after labiaplasty surgery:
You should pay attention to the hygiene of the vagina region after the operation and always keep the area dry.
For an average of 4 weeks, you should avoid entering environments where you can be heavily contacted by water, such as sea, bathtub and pool.
You should stay away from activities such as Motor, riding and cycling for at least 4 weeks.
You should not participate in sports branches such as gymnastics, yoga and Pilates for at least 4 weeks.
You should not apply hair removal procedure such as wax, laser etc to the vagina area for at least one month after surgery.
You should not have intercourse with your partner within a period of 1 month after surgery.
What is rhinoplasty (nose job)? Techniques, advantages and risks
You should wear loose undergarments and clothes to reduce discomfort in the vagina area after surgery. Otherwise, wearing tighter and stretch clothes may increase friction, which can lead to prolonged recovery time.
You should refrain from using the tampons for 1 month, and prefer to use the pads and linings that your doctor considers appropriate.
You should not take shower for the first 24 hours after labiaplasty. After 24 hours, you can take a standing shower so you don't sit in the bathtub.
After the labiaplasty surgery, you can return to your normal life the next day. However, you can also get a week's leave of work in case of pain and swelling formation. For a week, you can apply cold compress with ice to the region in order to reduce pain and swelling.
Choosing a doctor for labiaplasty
The genital area has a unique anotomic structure. It is important that the surgeon who will perform the operation has sufficient knowledge about this anatomic structure. Therefore, the selection of a physician who is experienced in genital plastic surgery is necessary in order to prevent the possible complications and the successful outcome of the procedure.
Which doctor can perform the labiaplasty surgery?
Women's most curious questions are whether labiaplasty surgery will be performed by an aesthetic surgeon or by a general surgeon. Labiaplasty surgery must be performed by a genital aesthetic surgeon. There are many obstetricians who perform the procedure. You can also ask a gynecologist for a general examination to see if you are pregnant before the procedure.
Price of labiaplasty surgery
Operation prices are determined by the doctor and the hospital at which the procedure is performed. The prices may vary depending on whether there is an extra procedure such as cliteroplasty, vaginal tightening during the procedure and whether the procedure is performed under general anesthesia or under local anesthesia. Average prices range from 3.000 $ to 8.000 $.