Plaquenil (hydroxychloroquine) is a prescription medicine used to treat lupus erythematosus and rheumatoid arthritis. With coronavirus (COVID-19) outbreak all over world, it has started to be used in treatment of the coronavirus. Plaquenil has currently been used experimentally in a small number of coronavirus patients. The medicine, which became current agenda thanks to promising studies conducted especially in China and Europe, was started to be used on coronavirus patients in our country; however, its effectiveness has not been fully proven. There are ongoing studies on the effect of the medicine on the coronavirus.
What is Plaquenil (hydroxychloroquine)?
Plaquenil is a prescription medicine widely used in the treatment of malaria, lupus erythematosus, rheumatoid arthritis, juvenile idiopathic arthritis, and some skin diseases. The medicine, whose active ingredient is hydroxychloroquine sulphate, is commercially available in tablet form.
Each tablet in the box contains 200 mg of hydroxychloroquine sulphate. Research in China promises hope that medicines with the active ingredient hydroxychloroquine and chloroquine can be effective in the treatment of the coronavirus.
Can hydroxychloroquine and chloroquine treat coronavirus?
Hydroxychloroquine (Plaquenil) or chloroquine effectiveness in the treatment of coronavirus has not yet been proven and its use has not been approved by the FDA. However, studies are ongoing. In a small-scale laboratory study conducted in China, it was identified that coronavirus patients treated with chloroquine either presented with a milder disease or stayed in the hospital shorter compared to other patients. The study recommends chloroquine treatment to all coronavirus patients.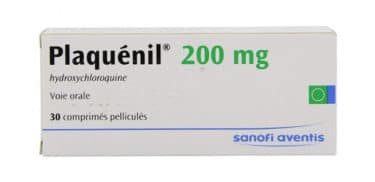 In a small-scale study conducted in France without detailed information about its stages, it was stated that hydroxychloroquine could be used in treatment. Even though its clinical efficacy has not been proven, many doctors have started prescribing it, and it has been listed by the World Health Organization as a medicine whose efficacy is being investigated. Studies on use of hydroxychloroquine and chloroquine in COVID-19 treatment are ongoing.
What is Plaquenil used for?
Plaquenil, which is also used in the treatment of malaria in the USA and Europe, is used in the treatment of the following diseases in our country:
Rheumatoid arthritis
Lupus erythematosus
Juvenile idiopathic arthritis in children
Sunlight-related skin problems
Use of Plaquenil
Take the medicine with some food or a glass of milk.
Do not chew or crush the tablet.
Do not take more than the dose prescribed by your doctor. Without consulting your doctor, do not change the dose yourself considering the effect of the drug on you.
If you have rheumatoid arthritis and cannot benefit for more than 6 months, inform your doctor. It may be necessary to change the medication.
If you take the medicine for sun-related skin problems, use it only when you are exposed to the sun.
Children with a weight below of 31 kg cannot use this medicine.
Dosage of Plaquenil
Dosing of Plaquenil may change based on age, condition of treatment, severity of the disease, and other medical problems a patient has. However, generally recommended doses are as follows:
Malaria dose
Adults: In acute cases, the starting dose is 800 mg. After this first dose, 3 more doses of 400 mg are taken 6 hours, 24 hours and 48 hours later. The medicine is started 2 weeks before the exposure to malaria and a dose of 400 mg is taken once a week to prevent malaria.
Children (0-17 years): In acute cases, the starting dose is 13 mg / kg (maximum dose: 800 mg). After the first dose, 3 more doses of 6.5 mg/kg are taken 6 hours, 24 hours, and 48 hours later.
Lupus erythematosus dose
Adults: Daily doses of 200 mg – 400 mg can be taken either as a single dose or BID by dividing the dose into two.
There is no dose defined for children under 18 years old.
Rheumatoid arthritis dose
Adults: The starting dose of 400 mg – 600 mg/d can be taken as either single or BID by dividing the dose into two. As a maintenance dose, a single daily dose of 200 mg or a total daily dose of 400 mg taken by dividing into two is recommended. It can cause eye problems if taken more than 600 mg/d.
Dosage for skin problems and for juvenile idiopathic arthritis in children
Adults: 200-400 mg (1-2 tablets) daily.
Children (0-17 years): 200 mg (1 tablet) daily.
It may take several months for the medicine to take effect in rheumatoid arthritis, several weeks in other diseases.
Dose of Plaquenil in the coronavirus treatment
Doctors report different doses as the dose to be used in the coronavirus treatment has not been established yet. Therefore;
400 mg on the first day, followed by 400 mg daily for 5 days
400 mg on the first day, then continue with 200 mg for 4 days
600 mg on the first day, then 400 mg for 2-5 days.
Drug interactions of Plaquenil
Plaquenil may interact with other medicines, vitamins, or herbs. This may cause an increase in the side effects or a decrease in its effect. If you have a medication or take supplements, be sure to inform your doctor.
Drugs that may interact with Plaquenil (Hydroxychloroquine):
Digoxin (cardiac medication): May cause an increase in the level of digoxin in your body.
Insulin and other diabetes medications: (chlorpropamide, glipizide, glimepiride, repaglinide, etc.) Taking Plaquenil with these drugs causes hypoglycemia (low blood sugar).
Medicines affecting the cardiac rhythm (amiodarone, chlorpromazine, clarithromycin): May cause dangerous cardiac rhythm disturbance.
Some malaria medicines (mefloquine, halofantrine): May increase the risk of seizures.
Epilepsy medicines (phenytoin, carbamazepine)
Some antibiotics (gentamicin, neomycin, tobramycin)
Stomach ulcer medicine (cimetidine)
Myastenia gravis medicines (Neostigmine and pyridostigmine)
Immunosuppressants (methotrexate, cyclosporine)
Plaquenil and alcohol
High level of alcohol consumption can damage the liver, which can affect the function of hydroxychrorocine in the body.
Forms and types of Plaquenil
Plaquenil is only available in tablet form of 200 mg on the market.
Generic medicines to Plaquenil
Quineprox: 200 mg oral tablet
Who should not take Plaquenil?
Do not use Plaquenil if you have one or more of the following conditions:
Allergy to the active ingredient of the drug, hydroxychloroquine sulphate or one of the compounds,
Any eye diseases (affecting the retina or inside the eye) or change in the colour of the eye,
Pregnancy or planning to become pregnant,
Children with a body weight below of 31 kg.
In which situations is Plaquenil inconvenient?
Always consult a doctor before taking Plaquenil if you have the following conditions:
Liver or renal problems,
Alcoholism,
Heart disease,
Stomach or intestinal problems,
Problems with blood values,
Nervous system or brain problems,
Allergy to quinine,
Psoriasis and porphyria,
Glucose-6-phosphate dehydrogenase deficiency.
Use of Plaquenil during breastfeeding and pregnancy
Some studies show that the medicine can be transferred from the mother's bloodstream to the baby. Therefore, Plaquenil should not be used during pregnancy or if there is a plan to become pregnant. Be sure to inform you doctor if you become pregnant while taking the drug.
Furthermore, the medicine may pass into breast milk at a small amount. However, its effects on the baby are not known well. Therefore, the mother and doctor should make a decision together by considering pros and cons.
Side effects of Plaquenil
Common side effects
Headache
Dizziness
Diarrhea
Vomiting
Skin rashes and itching
Loss of appetite
Mood changes (such as uncontrolled laughter or crying)
Mild side effects may disappear after a while as you take the medicine. However, if it gets worse or does not get over, be sure to consult your doctor.
Serious side effects
Immediately inform your doctor if you observe the following side effects:
Unresolved vision changes or blurred vision
Heart failure and problems with your cardiac rhythm (may be fatal)
Tinnitus or hearing loss
Mild or severe bronchospasm (narrowing of the airways)
Angioedema (rapid swelling of the skin)
Unusual bleeding or bruising
Sore throat
Hypoglycemia
Weakness in muscles
Hair loss or changes in hair colour
Some negative mental effects, such as suicidal ideation.
Plaquenil (hydroxychloroquine) prescription
For more information about Plaquenil (hydroxychloroquine) tablet, you can find its prescription and prospectus via the link: >>>