A recent study on BeMe Health, a digital behavioral health platform designed for teens, revealed high user engagement and positive feedback. Collaborating with Stanford University, the research found that of the 13,000+ users, 85% screened positively for depression and 78% for anxiety. Over a month, users accessed BeMe around eight times, with significant engagement in app content related to cognitive and dialectical behavior therapies. Moreover, 92% reported enhanced confidence in using coping skills after using the app. Especially younger teens and females showed heightened interaction with the platform. The study underscores the potential of digital tools like BeMe in supporting teen mental health.
In the face of soaring adolescent mental health challenges, the BeMe Health platform, has shown to be both engaging and beneficial for its users, according to a new study. The BeMe Health app is not just another digital tool; it was co-created with the insights of an advisory board of 131 teenagers. The app offers skill-building activities rooted in cognitive behavioral therapy and dialectical behavior therapy, 24/7 crisis support, one-on-one coaching, and clinical services. Furthermore, it provides an avenue for users to share their feelings and experiences in real-time.
The study, carried out in collaboration with Stanford University, involved over 13,000 users and revealed that:
85% of those who started using the app had a positive screen for depression, while 78% screened positive for anxiety.
Participants engaged with the app on average eight times within a month.
A vast majority (91%) interacted with the app's educational content, and three-quarters took part in its interactive activities.
Around one in five users tapped into the coaching and clinical services offered by the app.
Significantly, around 83% felt the app boosted their hope, 84% believed it elevated their self-esteem, and 92% said it heightened their confidence to employ coping techniques.
Additionally, 84% of users found the app's coaching beneficial for managing stress.
Dr. Judith Prochaska, the lead investigator and a professor at Stanford University, highlighted the app's potential, stating, "Innovative solutions that are accessible, engaging, and responsive are needed to address the mental health needs of teens today. Our initial findings demonstrate that a large number of teens engaged with the BeMe platform, including its content, mood assessments, interactive skills, and live coaching. Digital tools such as BeMe have the potential to substantially enhance access to mental health support for young people."
Recent data from the Centers for Disease Control (CDC) indicate that 40% of U.S. high school students experience consistent feelings of sadness or hopelessness. An alarming rise in the number of teenagers contemplating or attempting suicide has also been noted over the past decade. This crisis not only impacts individual well-being but also carries significant financial implications. The total cost associated with anxiety disorders stands at $6,405 per youth, with suicides and attempts costing the USA nearly $70 billion annually.
Interestingly, the study found that female users and those aged between 13 and 14 years engaged more actively with the app. Dr. Danielle Ramo, Chief Clinical Officer at BeMe, expressed that while the heightened engagement of female teens was anticipated, the active participation of younger teens was a particularly insightful discovery.
As the world grapples with the implications of a global pandemic, there's a heightened need for mental health resources that resonate with today's tech-savvy teens. BeMe, with its blend of clinical research and real-time support, appears to be a step in the right direction.
About BeMe Health: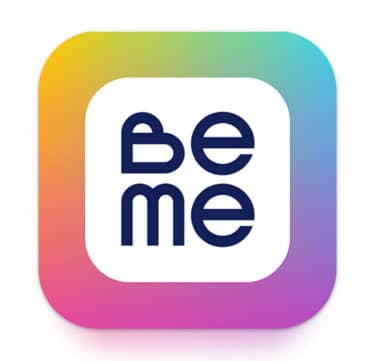 BeMe Health is a digital behavioral health company specialized in teen mental health interventions. Developed with insights from a 130+ member Teen Advisory Board, the platform offers content, mood tools, safety planning, skill-building activities, and 1:1 coaching, all tailored for teens' digital habits. Emphasizing evidence-based techniques like cognitive behavioral therapy and positive psychology, BeMe integrates clinical research with real-time support. For more details, visit www.beme.com
Abstract of original research
Acceptability and Utility of a Smartphone App to Support Adolescent Mental Health (BeMe): Program Evaluation Study. For full text:>>>
Abstract: Background: Adolescents face unprecedented mental health challenges, and technology has the opportunity to facilitate access and support digitally connected generations. The combination of digital tools and live human connection may hold particular promise for resonating with and flexibly supporting young people's mental health.
Objective: This study aimed to describe the BeMe app-based platform to support adolescents' mental health and well-being and to examine app engagement, usability, and satisfaction.
Methods: Adolescents in the United States, aged 13 to 20 years, were recruited via the web and enrolled between September 1 and October 31, 2022. App engagement, feature use, clinical functioning, and satisfaction with BeMe were examined for 30 days. BeMe provides content based on cognitive behavioral therapy, dialectical behavior therapy, motivational interviewing, and positive psychology; interactive activities; live text-based coaching; links to clinical services; and crisis support tools (digital and live).
Results: The average age of the sample (N=13,421) was 15.04 (SD 1.7) years, and 56.72% (7612/13,421) identified with she/her pronouns. For the subsample that completed the in-app assessments, the mean scores indicated concern for depression (8-item Patient Health Questionnaire mean 15.68/20, SD 5.9; n=239), anxiety (7-item Generalized Anxiety Disorder Questionnaire mean 13.37/17, SD 5.0; n=791), and poor well-being (World Health Organization-Five Well-being Index mean 30.15/100, SD 16.1; n=1923). Overall, the adolescents engaged with BeMe for an average of 2.38 (SD 2.7) days in 7.94 (SD 24.1) sessions and completed 11.26 (SD 19.8) activities. Most adolescents engaged with BeMe's content (12,270/13,421, 91.42%), mood ratings (13,094/13,421, 97.56%), and interactive skills (10,098/13,421, 75.24%), and almost one-fifth of the adolescents engaged with coaching (2539/13,421, 18.92%), clinical resources (2411/13,421, 17.96%), and crisis support resources (2499/13,421, 18.62%). Overall app engagement (total activities) was highest among female and gender-neutral adolescents compared with male adolescents (all P<.001) and was highest among younger adolescents (aged 13-14 years) compared with all other ages (all P<.001). Satisfaction ratings were generally high for content (eg, 158/176, 89.8% rated as helpful and 1044/1139, 91.66% improved coping self-efficacy), activities (5362/8468, 63.32% helpful and 4408/6072, 72.6% useful in coping with big feelings), and coaching (747/894, 83.6% helpful and 747/894, 83.6% improved coping self-efficacy). Engagement (total activities completed) predicted the likelihood of app satisfaction (P<.001).
Conclusions: Many adolescents downloaded the BeMe app and completed multiple sessions and activities. Engagement with BeMe was higher among female and younger adolescents. Ratings of BeMe's content, activities, and coaching were very positive for cognitive precursors aimed at reducing depression and anxiety and improving well-being. The findings will inform future app development to promote more sustained engagement, and future evaluations will assess the effects of BeMe on changes in mental health outcomes.