In a pivotal breakthrough, researchers from the University of Kentucky have revealed that ponesimod, an FDA-approved drug for multiple sclerosis (MS), displays significant potential as a treatment for Alzheimer's disease. The research found that ponesimod effectively reduces neuroinflammation, a significant factor in Alzheimer's progression. Since the FDA has already approved ponesimod for MS, its repurposing for Alzheimer's therapy could be expedited. Initial studies using mouse models and human brain samples have supported these findings.
The research indicates that the drug specifically targets and reprograms microglia, brain cells involved in inflammation and clearing neurotoxic proteins, thereby potentially improving memory and cognitive function in Alzheimer's patients. The findings were published in the journal eBioMedicine, part of The Lancet Discovery Science.
"We stand at the threshold of a critical endeavor to develop new treatment strategies against Alzheimer's disease. We've uncovered that a medication already on the market, ponesimod (Ponvory), can reduce one of the hallmarks of this disease: neuroinflammation. We are the first to show that ponesimod is effective in a mouse model for Alzheimer's disease. Since this drug is already in clinical use for therapy of relapsing multiple sclerosis, it is immediately available to be used in Alzheimer's disease therapy as well," said Erhard Bieberich, Ph.D., a professor in the Department of Physiology in the UK College of Medicine.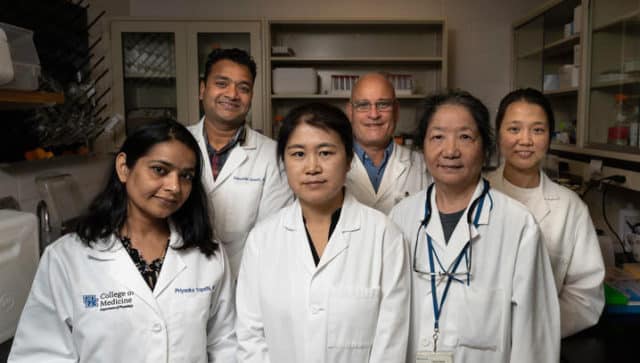 According to the results, the drug works by reducing neuroinflammation, a central factor in Alzheimer's progression. The team highlighted ponesimod's role in decreasing inflammation in the brain by specifically targeting a receptor in the immune system, known to be activated by a lipid called sphingosine-1-phosphate. This not only prevents the immune response from attacking the central nervous system but also aids in controlling it.
A noteworthy aspect of the study revolves around the cells called microglia, located in the central nervous system. These cells, crucial for regulating inflammatory responses within the brain and spinal cord, become dysfunctional in Alzheimer's patients.
As Zhihui Zhu, Ph.D., the lead author of the study, notes, these compromised microglia play a role in the abnormal protein deposits in the brain, characteristic of Alzheimer's disease. The research indicated that treating these cells could potentially become a target for Alzheimer's therapy.
Utilizing specific genetic strains of mice that display major Alzheimer's symptoms, the team delved deep into the drug's impact. These mice underwent treatment with ponesimod, with the subsequent results showcasing an improvement in spatial memory, gauged through a maze behavior test.
Furthermore, in collaboration with UK's Alzheimer's Disease Research Center, researchers corroborated their findings using human brain samples. The consistent data hinted at ponesimod's potential role as a therapeutic intervention for Alzheimer's.
The innovative approach of repurposing an existing MS drug underscores the immense possibilities within the medical world to confront and possibly counteract Alzheimer's debilitating progression. With the urgency surrounding effective treatments for this neurodegenerative disease, these findings illuminate a beacon of hope for countless patients and their families.
This study was funded by a series of grants from the National Institute on Aging (NIA) of the National Institutes of Health (NIH) and the U.S. Department of Veterans Affairs.
Abstract of the research
The S1P receptor 1 antagonist Ponesimod reduces TLR4-induced neuroinflammation and increases Aβ clearance in 5XFAD mice
Background: Previously, we showed that the sphingosine-1-phosphate (S1P) transporter spinster 2 (Spns2) mediates activation of microglia in response to amyloid β peptide (Aβ). Here, we investigated if Ponesimod, a functional S1P receptor 1 (S1PR1) antagonist, prevents Aβ-induced activation of glial cells and Alzheimer's disease (AD) pathology.
Methods: We used primary cultures of glial cells and the 5XFAD mouse model to determine the effect of Aβ and Ponesimod on glial activation, Aβ phagocytosis, cytokine levels and pro-inflammatory signaling pathways, AD pathology, and cognitive performance.
Findings: Aβ42 increased levels of TLR4 and S1PR1, leading to their complex formation. Ponesimod prevented the increase in TLR4 and S1PR1 levels, as well as the formation of their complex. It also reduced the activation of the pro-inflammatory Stat1 and p38 MAPK signaling pathways, while activating the anti-inflammatory Stat6 pathway. This was consistent with increased phagocytosis of Aβ42 in primary cultured microglia. In 5XFAD mice, Ponesimod decreased the levels of TNF-α and CXCL10, which activate TLR4 and Stat1. It also increased the level of IL-33, an anti-inflammatory cytokine that promotes Aβ42 phagocytosis by microglia. As a result of these changes, Ponesimod decreased the number of Iba-1+ microglia and GFAP+ astrocytes, and the size and number of amyloid plaques, while improving spatial memory as measured in a Y-maze test.
Interpretation: Ponesimod targeting S1PR1 is a promising therapeutic approach to reprogram microglia, reduce neuroinflammation, and increase Aβ clearance in AD. For the full text of the article, click this link:>>>    / The reference for the article:>>>